Star Wars Pradat
Intro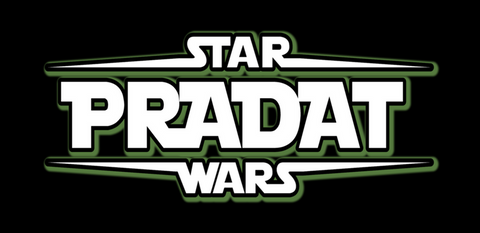 The Pradat is a plain area in the North East Italy. "Pradat" is a derogatory word that indicates a grassy area (from the Latin word "Pratum" that means "lawn"). The toponym is present in other Friulian places too, very far from each other. The Pradat of Azzano Decimo is "divided" in smallest localities by mean of other toponyms that specify them. So it is possible to locate: Pradat Candie, Pradat Morosini, Pradat Maute and Pradat Molani. The latter toponym indicate a portion of territory between the waterways "Romacon" and "Luma". At the end of Pradat Molani street there is the naturalistic area named "Tre scalini del diavol" ("I tre s'cialin del diaul" in the local dialect, that means "The three devil's stairs"). Molani, Maute and the "Tre s'cialin del diaul", until some year ago, gave shelter to many wild animal species, that prosperously lived there quite undisturbed. The wonderful equilibrium of this areas have been compromised by the demographic pressure and human incompetence and ignorance. When I stroll around in the Pradat, I like to imagine that the Star Wars Empire protects this territory from uncivil citizens raids. Here I propose some videos about the imperial domain on the Pradat.
SWP - The persimmons thief
Far away from the "town's eyes", some citizens feel themselves free to steal flowers, fruits, vegetables, firewood and agricultural tools from the Pradat's fields, gardens and houses. A local saying states that the persimmons are ready when they are covered by the first winter frost. On this time, the theft ends in a dreadful way! Video in Italian language.
SWP - The European red squirrel - Sciurus vulgaris
In the Pradat countryside (in the North East of Italy), the European red squirrel lives quietly, or at least so it seems...
SWP - Green Screen Speeder Bike Scout Trooper
During the making of the "The persimmons thief" I had to prepare a Green Screen Speeder Bike Scout Trooper video. You might use it for your projects under the Creative Commons license (BY) specified at the end of the video. Enjoy!
STW - The green woodpecker (Picus viridis) Coming Soon
In the Pradat area nervously lives the european green woodpecker, threatened by the unstoppable trees felling into which it would like to nest. During the last years, with patience and dedication, I realized a documentary on this animal, which is forced to find unthinkable shelters in order to procrastinate its own species.